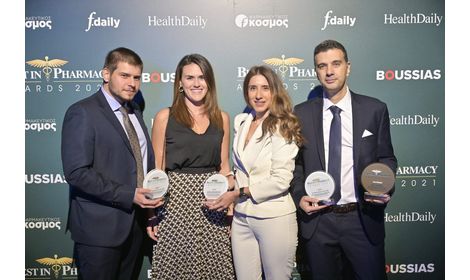 Best in Pharmacy 2021: Three Gold & Platinum Awards for Uni-pharma & InterMed
Three very important awards - for Ethical Business, the Green Sustainable Future and Environment and the top relaunch of the brand EVA INTIMA - were received by the pharmaceutical companies Uni-pharma & InterMed, during the BEST IN PHARMACY AWARDS 2021 awards.
In its 4th event, the BOUSSIAS Best in Pharmacy Awards highlighted the companies and pharmacy products that stood out for their good marketing practices and innovation.
The companies that received the highest scores in the overall evaluation and were distinguished, were awarded at the Awards Ceremony held at Kellari Papachristou, on Wednesday, September 29, 2021. The evening was a great celebration for the pharmaceutical industry and after a year and a half of the pandemic Covid, with special conditions and restrictions, about 150 executives were given the opportunity to meet and be rewarded for their successes.
Analytically, the Awards for both the pharmaceutical companies, are as follows:
GOLD AWARD for Uni-pharma as Top Green Company
GOLD/ PLATINUM AWARD for Uni-pharma as Top Responsibe Company
GOLD AWARD for InterMed for the Top relaunch of the brand EVA INTIMA.