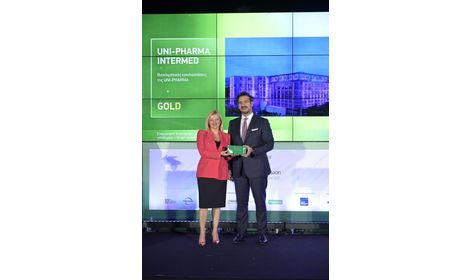 Enviromental Awards 2022: 5 awards to UNI-PHARMA & InterMed – Good practices for circular economy, sustainability & innovation
With five awards, which highlight the crucial role in fields of smart waste management, circular economy, energy reduction, ecological and environmental label, UNI-PHARMA & InterMed were distinguished at the Enviromental Awards 2022 organized by Boussias group.
The awards that highlight and reward good practices and initiatives for the protection of the Environment and Sustainability, as well as innovative "green" projects, technologies or programs, announced the winners on Wednesday, September 28 at the Hellenic Cultural Foundation.
In detail, the awards with which UNI-PHARMA & InterMed were distinguished are as follows:
GOLD for the Bioclimatic facilities of UNI-PHARMA S.A.
SILVER for smart waste management at OFET Group
SILVER also for the Integrated environmental and energy management system at OFET - Tsetis Pharmaceutical Enterprises Group.
BRONZE for actions related to sustainability, circular economy and innovation
And one more BRONZE, for OFET's actions, with an environmental and ecological mark.