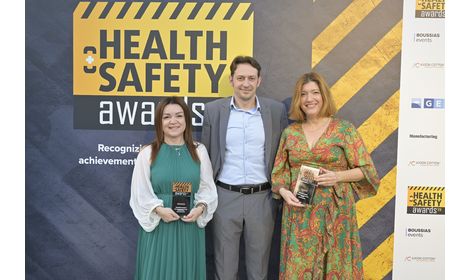 HEALTH & SAFETY AWARDS 2023: UNI-PHARMA & InterMed, pioneers in Health & Safety at Work
Two Bronze Awards, which demonstrate UNI-PHARMA & InterMeds tireless efforts to holistically serve the Health & Safety at Work model across all facilities, protecting at the same time all the employers equally, were received by the two industries during the Health & Safety Winners Awards Ceremony Awards 2023.
The event took place at the Hellenic Cultural Foundation on Thursday, June 8, 2023 at 8:30 p.m. The Health & Safety Awards 2023 were organized for the 9th year by BOUSSIAS under the auspices of the Hellenic Institute of Occupational Health and Safety.
The two Bronze awards concern:
3.9. Preventing the Spread of Covid-19 OFET - Effective solutions in the pandemic & post-Covid era
5.1. Innovation in Occupational Health & Safety UNI-PHARMA: Digital technologies that lead to prevention