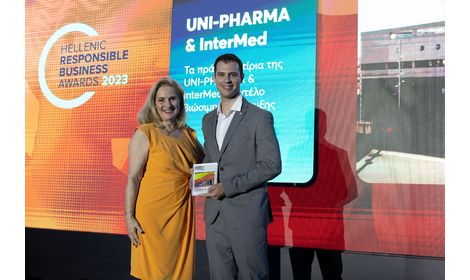 Hellenic Responsible Awards 2023: Silver & Bronze to UNI-PHARMA & InterMed
Two awards, which underline UNI-PHARMA & InterMed's continuous dedication to Ethical Business, fruitful collaborations with the academic and research community and sustainable entrepreneurship, were won by the pharmaceutical companies - of the Tsetis Pharmaceutical Group of companies, during the HELLENIC RESPONSIBLE AWARDS 2023, organized by Boussias Group on July 12, 2023.
This is the SILVER award in category 1.4 Cooperation of Business & Academic Bodies OFET – Business ethics & support for the new generation of researchers and the award BRONZE, in category 6.9 "Green" Buildings / Built Environment - The green buildings of UNI-PHARMA & InterMed, model of Sustainable Development.
The institution of the Hellenic Responsible Business Awards, for the eighth consecutive year, rewarded companies that promote the values of Sustainable Entrepreneurship, investing in Sustainable Environmental and Social Development. The award ceremony took place on Wednesday, July 12, 2023, at the Wine Museum, under the auspices of the Ministry of Development and Investments, the Ministry of Environment and Energy and the BSE, as well as with broad institutional honorary support, while the greeting of the event was carried out by the Deputy Minister of Development and of Investments, Mr. Maximos Senetakis.