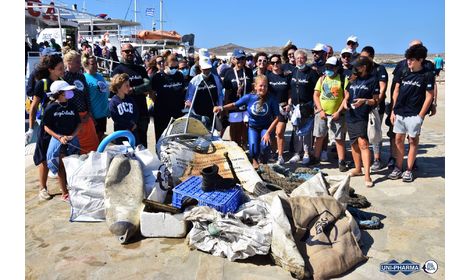 Keep Delos Blue 2021: An environmental action from Uni-pharma & InterMed
The Green Team of the Tsetis Pharmaceutical Group of Companies (OFET) visited the emblematic island of Delos- the island of the Goddess Artemis and the God Apollo, and the Museum of World Cultural Heritage, on the weekend of September 4 and 5 2021.
The target of the visit, was an interesting environmental action. Specifically, the Green Team of the pharmaceutical companies Uni-pharma and InterMed, in collaboration with the Environmental Organization All For Blue, carried out underwater and coastal cleaning on the island of Delos.
It is worth noting that from the cleanups, more than a ton of garbage was collected, while the divers who participated in the action, were all athletes of the Free Diving of our National Team. The divers were accompanied by a submarine drone, which recorded step by step the entire cleaning action.
This important environmental action under the title #KeepDelosBlue is part of the OFET Corporate Responsibility Program, a strategy, which for years includes actions for the protection of the environment and ecosystem, support of vulnerable groups of society, support and empowerment of the new generation and scientists.
Mrs Ioulia Tsetis, CEO of OFET, pharmacist MSc, president of the Global Compact Network Hellas and member of BoD of SEV, was present at this interesting and fruitful action.