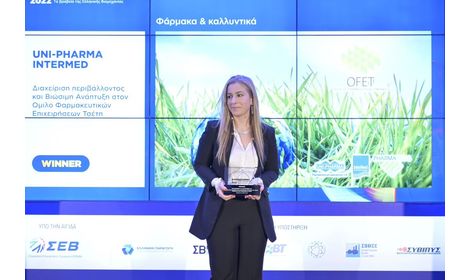 Manufacturing Awards 2022: 4 distinctions for UNI-PHARMA & InterMed – ESG, Business Ethics, Environment and Energy Policy
UNI-PHARMA InterMed, companies of Tsetis Pharmaceutical Group of companies, won four important awards- two Silver, one Bronze and one Winner- related to ESG (Environment, Society, Governance) strategy, environmental & energy policy and operational Ethics & Corporate Social Responsibility, at the Manufacturing Excellence Awards 2022, organized by Boussias group, on November 1st, 2022.
The awards were organized for the 4th year by Boussias in collaboration with Manufacturing Magazine and Industry News Daily!
The Manufacturing Excellence Awards in particular highlight and reward actions and projects of businesses for strong resilience and timely adaptability to new production, distribution and communication conditions, digital and green transformation, human resource development and their contribution to the development of the national economy .
The awards were received by Mrs. Elena Alexia Kyriakopoulou – Energy Environmental Health & Safety Manager of OFET and Mr. Manos Nikitakis, engineering Validation Engineer OFET – Tsetis Pharmaceutical Group of companies.