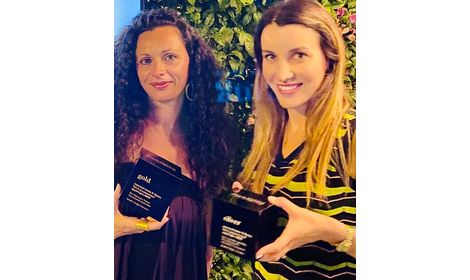 PACKAGING AWARDS 2021: Gold to the Skin Pharmacist & Silver to the Eva Intima
Two very important awards, which reflect the design inspiration, the innovation, the enthusiasm, but also the sustainability that underlines the value of the branding, was received by the pharmaceutical company InterMed, at the PACKAGING AWARDS 2021 on Monday 12 July, at House 124 in Athens .
This is the new dermatological series Skin Pharmacist, which was distinguished with a GOLD award - Graphic Design Innovation as Minimal recyclable packaging and the long-established line of women's care Eva Intima, which this year was released in a new packaging and was distinguished with a SILVER award - Graphic Design Innovation, as a Doric, recyclable package.
The awards were received by Mrs. Sappho Hatzikyriakaki - Head of Creative Department of Tsetis Pharmaceutical Group of Companies, and Myrto Rapti - brand manager of InterMed.