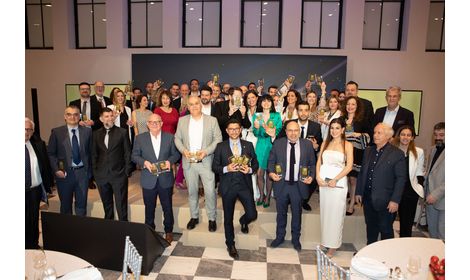 Pharmaceutical Market Excellence 2023: Two Gold & Platinum awards to UNI-PHARMA & InterMed
Three very significant awards, which capture and seal the relationship of the Tsetis Pharmaceutical Group of companies with the pharmacists, were received by UNI-PHARMA & InterMed industries, in the context of the PHARMACEUTICAL MARKET EXCELLENCES 2023 (ARISTEIA), on Wednesday, April 26, 2023.
The 2023 Pharmaceutical Market Excellence Award ceremony, organized by Noufio Communication Services since 2017, took place at the Zappeion Megaro.
For the sixth year, excellence was awarded to businesses, agencies and groups, for action, actions, presentation of innovations or best practices for the benefit of pharmaceutical care, prevention and the operation of pharmacies.
In detail, the awards received by OFET's pharmaceutical companies are as follows:
01 Corporate social responsibility in the pharmaceutical market
Gold: UNI-PHARMA
The award was received by Mrs. Smaragdi Talaki, HR & CSR of Tseti Pharmaceutical Enterprises Group.
06 Innovative product in the pharmacy
Gold: UNI-PHARMA for APOTEL ESPRESSO
The award was received by Mrs. Angeliki Oikonomou, OTC Product Manager of UNI-PHARMA.
12 Sales team distinguished in pharmacies
Platinum: INTERMED
The award was received by Mr. Antonios Zeppos, Commercial Director of InterMed & Pharmabelle.