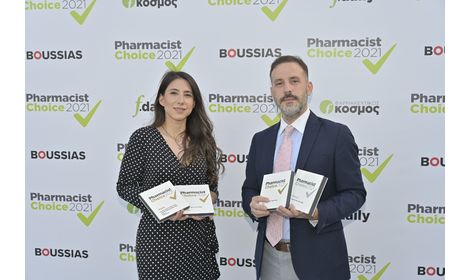 Pharmacist Choice 2021- The big winners of pharmacies: 4 Awards for Uni-pharma & InterMed products
Four significant Awards, which further strengthen the image of the companies of the Tsetis Pharmaceutical Group of Companies in the consumer consciousness, received products of Uni-pharma and InterMed, respectively, in the competition "Pharmacist Choice 2021: The big winners of Pharmacy products" organized by the Boussias group, on Tuesday, May 25, 2021.
In a year that was particularly demanding for the whole pharmacy industry, leading companies and distinguished scientists met the requirements of this new institution, contributing significantly to its success. The Special Committee, as well as members of the pharmaceutical community across the country, evaluated the products through a special electronic platform, but also through the nationwide research conducted by Global Link.
These 4 Awards further value the products that were awarded, as well as the companies in the consciousness of the patient and the consumer, as they were voted by pharmacists and are a reliable choice by the specific health professionals.
In detail, the distinctions received by the products of Uni-pharma InterMed are as follows:
- Category Vitamins: Winner distinction in B12 FIX: The only dispersible preparation in its category, product of Uni-Pharma l Kleon Tsetis SA
- Category Vitamins: Runner-up distinction in D3 FIX: A preparation with the signature of reliability of Uni-pharma
- Category Welfare Products: Winner distinction in LACTOLEVURE - The number 1 probiotic product in Greece
- Category Sensitive area: Winner distinction in EVA INTIMA, product of InterMed Ioulia & Irini Tseti Pharmaceutical Laboratories SA. This is a complete series of women's care, which now appears with a minimal & clean cut appearance, but with the same quality and reliability.