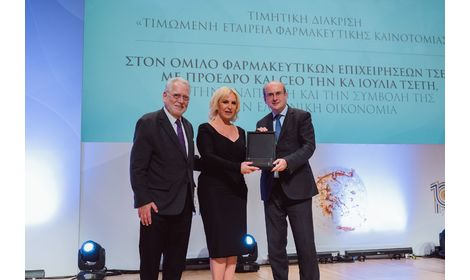 PRIX GALIEN 2023: Honorary award to UNI-PHARMA & InterMed, for its contribution to the economy & innovation
Honorary Award as "Honourable Pharmaceutical Innovation Company" was received by the Tsetis Pharmaceutical Group of Companies, led by the president and CEO of the Group Mrs. Julia Tsetis, for its development and contribution to the Greek economy, in the framework of the PRIX GALIEN 2023 awards, on April 5 2023, at the Concert Hall.
The honorary distinction was presented to Mrs. Tseti by the Minister of Labor & Social Affairs, Kostis Hatzidakis. As Mrs. Iulia Tseti - MSc pharmacist, Emeritus Dr. pointed out in her speech. Pharmacist of EKPA, CEO of the Board of Directors of SEB and president of the UN Global Compact Network Hellas - "The Tseti Group is intertwined with the concepts of innovation, responsible entrepreneurship, sustainable development, excellence, equal opportunities at work and in positions of responsibility, no gender environment and gender equality.
The Tsetis Group, is not afraid of excellence and this philosophy has been fully embraced by the more than 600 employees of the Group. The industries of OFET, UNI-PHARMA & InterMed, are internationally recognized as official suppliers of the United Nations, UNICEF and the World Health Organization, while recently we were distinguished as MOST SUSTAINABLE COMPANIES and also as Top Employers, through continuous and rigorous evaluations.